To carry out this investigation, crisscrossing two continents from east to west, the producer called on that most Bordelais of Americans, Jeffrey Davies. Former wine journalist, wine mer-chant and an expert on the terroirs and winemaking fabric of Bordeaux and California, Jeffrey Davies was the investigator of choice. His perfect knowledge of the field – being familiar with wine players in Bordeaux as well as those in the United States – is a major asset. Accepting the mission that HRH Prince Robert of Luxembourg (Château Haut-Brion, Château la Mission HautBrion, Château Quintus) entrusted to him following an original discovery in the Château Haut-Brion archives, Jeffrey Davies, aided by his legendary phlegm, has no equal in digging out information, disentangling truth from falsehood, questioning his subjects to achieve his goals and showing himself worthy of the confidence shown in him by HRH Prince Robert of Luxembourg.
Jeffrey Davies Co-Author
Jeffrey is one of the cornerstones of the film. Co-screenwriter of Eastbound Westbound, «A winemaker's story from Bordeaux and California», his expertise in the world of wine indirectly made him a technical consultant in the project.
Born and raised in the San Francisco Bay Area, only about an hour from Napa Valley, Jeffrey Davies developed an early fondness for the (fermented) fruit of the vine.
Graduated with honours from the University of California in 1974, he immediately went to Bordeaux where he enrolled in the institute of oenology. In 1975, he became one of the first two Americans to graduate from the institute. After his studies, he worked in the wine retail business, first in Bordeaux, then in New York at Bernard Weiser's famous "67 Wine & Spirits" store. He later moved to the Midwest, where he was hired to act as an importer of European wines. The "Wine Horizons" portfolio he built there included many wines from Bordeaux and Burgundy.
In 1979, he returned to France with his Bordeaux-born wife and began a journalistic collabora-tion with the renowned food and wine magazine GaultMillau, becoming the first American to write for this publication. I am also proud to have been quoted in Stephen Brook's book Bordeaux: People, Power and Politics (Mitchell Beazley – 2001), and recurrently in William Echikson's Noble Rot: A Bordeaux Wine Revolution (WW Norton & Co. – 2004). Finally, I have been regularly quoted in newspapers and magazines ranging from «Figaro Magazine», «Le Monde», «Libération», «The New York Times», «The Wall Street Journal», and «The San Francisco Chronicle».
One of England's foremost wine journalists, Jancis Robinson, was kind enough to salute his work in the Languedoc over the past decade. To his great credit, Michel Bettane and Thierry Desseauve proclaimed in their monthly newsletter Les Carnets de Dégustation n°16: "We first tasted all the 2011s bought and marketed (for the most part) by one of today's best wine merchants, the American Jeffrey Davies (Signature Selections)."


Scenes from the film Eastbound Westbound, a winemaker's story from Bordeaux and California. Credit: Copyright © Eastbound Westbound 2021
The art of staging, lighting and shooting: Julien Couson, director of the documentary.
Capturing on film and giving flesh to the ideas germinating in the heads of the main origina-tors of this project, Gérard Spatafora and Frédéric Lot, was precisely the mission entrusted to Julien Couson by E-Studi'Oz, co-producer of the documentary. Like any good director re-sponsible for the making and technical direction of a film, a series, or a documentary, Bordeaux-born Julien Couson did not fail to meet expectations. Very attached to working with lighting and esthetic atmospheres, the documentary immediately benefited from a technical and artistic direction that have given it undeniable cinematographic quality, marked out by first-class historical re-enactments. Julien Couson is also co-producer and co-screenwriter of the documentary.
Julien Couson Film Director – Co-Founder of PMG Productions
Julien Couson had been a producer for more than 10 years when he created the production company SAM Production in Paris, in association with his brother Laurent. Julien then took on the production of Petites Mains Symphonique, one of the most am-bitious classical and jazz music projects in Europe for children, which has become a showcase for young French instrumentalists. He has produced concerts at the Olympia, the Grand Rex, the Casino de Paris… with teams of 50 people and 300 children, and also in Argentina and has worked on touring projects in South America and Asia.
Julien Couson is the director. In 2012, he created the film production and directing company PMG Productions in Tours, which specializes in three sectors: advertising, documentaries and 3D architectural films. Since then, Julien has shot films in the United States, Thailand, Cambodia, Italy, Moldova, Argentina, Switzerland, Germany, etc.
Julien has made more than a hundred documentaries or videos for brands like Cartier, Omega, Bulgari, Piaget, Montblanc, TAGHeuer, Bucherer, Bose, Champagne Arlaux, Chamberlan, Maison Vaincourt, Porsche, Singer Vehicle Design, Icade, ANRU, the NGO Pediatricians of the World, Universal Music, Château Latour, Le Rouge Français… and co-produced various short films and programs. Collaborations with Claude Lelouch, Serge Moati, Hugues Aufray, Didier Lockwood, Richard Galliano, Fills Monkey, Sarah Nemtanu, Jean-Jacques Goldman, etc.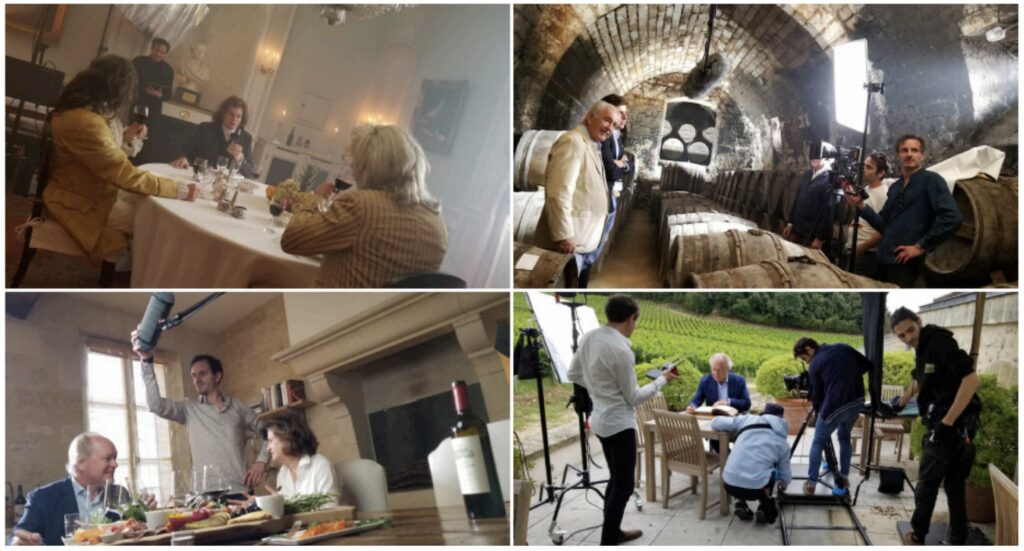 Behind the scenes – under the direction of Julien Couson, and his director of photography, Geoffroy Virgery – of the film Eastbound Westbound, a winemaker's story from Bordeaux and California. Credit: Copyright © Eastbound Westbound 2021